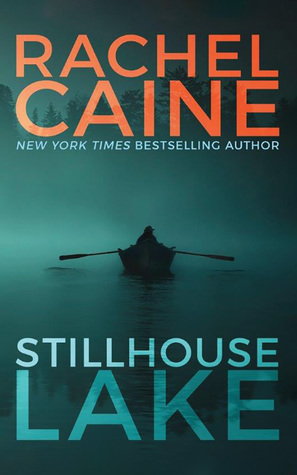 Gina Royal is the definition of average—a shy Midwestern housewife with a happy marriage and two adorable children. But when a car accident reveals her husband's secret life as a serial killer, she must remake herself as Gwen Proctor—the ultimate warrior mom.

With her ex now in prison, Gwen has finally found refuge in a new home on remote Stillhouse Lake. Though still the target of stalkers and Internet trolls who think she had something to do with her husband's crimes, Gwen dares to think her kids can finally grow up in peace.

But just when she's starting to feel at ease in her new identity, a body turns up in the lake—and threatening letters start arriving from an all-too-familiar address. Gwen Proctor must keep friends close and enemies at bay to avoid being exposed—or watch her kids fall victim to a killer who takes pleasure in tormenting her. One thing is certain: she's learned how to fight evil. And she'll never stop.
I have read almost all books by Rachel Caine – and loved every single one. Most of her work though falls under the banner of urban fantasy.
The Stillhouse Lake series though, is different – a mystery that is equal parts horror and thriller, the books keeps you on the edge of your seat. 
The premise is rather straightforward: This is the story of the wife and kids of a serial killer – and what happens to them after he is discovered. 
This is not an easy story and these are not easy characters to create. Rachel Caine manages to do so flawlessly. Her characters are real, they have background stories, they have personalities, they have flaws and above all, they are human.  
Gina Royal had the 'normal' life – a stay-at-home mom of two kids with a 'good' husband. After all, if your husband is perfect all the time and the only thing you have to respect is his need for space – then it is a pretty good deal. Of course, the need for space involved giving up on the garage – but that was a small price to pay in Gina's opinion.
But Melvin Royal was no normal, good husband and his 'space' was the place where he butchered young women. He was/is a serial killer and Gina and the kids were his unwitting camouflage. That all comes crashing down right at the beginning of Stillhouse Lake and the actual story starts a few years later.
The story is mostly told from Gina's perspective and it is heartbreaking and brave in equal measure. She has picked up the pieces of her life, even though most of the world thinks she must have helped her serial killer husband even though the courts have exonerated her. 
She is no longer Gina Royal. She is Gwen Proctor, a fiercely protective mother who  will do anything to keep her children safe from the shadow of their father and his crimes.
It is from here that we move on, along with Gwen, as she and the kids, Lanny (15) and Connor (11), finally build a home in Stillhouse Lake. For the first time in years – they start putting down roots, trusting their surroundings and thinking that the past might finally be behind them.
Of course, that is when the murders start. The MO is the same as that of Melvin Royal – and the bodies are being dumped in Stillhouse Lake – practically Gwen's backyard. And Gwen's world starts crashing down.
I can actually wax poetic about how well this book is written, about how real it is – the characters, the setting and the situations – and I would still not do a good enough job.
The characters are real. The situations make complete sense. There is mystery, a hell of a plot and a sense of horror and foreboding throughout the book – because you know that this could have happened to anyone, that this could be anyone. And that is the biggest draw of all, to be able to see yourself in Gina and to hope like hell that we too can reforge ourselves into Gwen.
For Killman Creek, the second book in the series, I got the ARC from NetGalley.
BEWARE: SPOILERS AHEAD.
Killman Creek starts 12 days from where Stillhouse Lake left off.
Melvin Royal is on the loose and Gwen and the kids are on the run, again. There is just one major difference. They are no longer alone. Now they have friends – trustworthy, good people who proved themselves worthy of Gwen's trust in Stillhouse Lake.
There is a lot on the line. Gwen needs to protect the kids – but she can no longer hide. After all, Absalom has betrayed her and she knows it is only a matter of time before Melvin catches up to her. No matter how far she runs, she just cannot seem to be rid of Melvin and so finally she makes a decision.
Gina ran. Gina was prey.
Gwen will stand and fight and hunt.
This book is different from the first – Gwen and Sam are working together. There are people who Gwen can trust and who trust her in return. But the suspense, the plot, is just as well executed as it was in the previous book – there are layers upon layers to the mystery.
Is it just about the cult following of one serial killer, or is it something much, much bigger than that? With the FBI involved, the hunt for Melvin is on – only problem is – Melvin is also hunting them and he too has friends in high places.
This is an excellent book, a perfectly done sequel to Stillhouse Lake. The book is told from several POVs – all as unique as the characters that Caine has built. We understand motivations, thought processes and above all we can see what is happening as if it is literally happening in front of us. The read is as real and visceral as it can be.
There is a thread of horror woven through the thrill – the depths of human depravity bared for all to see. But there are the good guys – the ones who fight against ridiculous odds – and the struggle of one woman to reinvent herself, overcome her past and raise her children well. There is a scene (of both the kids separately) near the end – which felt poignant even though it is in the middle of escalating terror and horror – where you see just how far Gwen, and the kids, have all come. She has succeeded on many accounts but that felt like her biggest victory to me: She had managed to take those kids and make them independent, intelligent and brave individuals.
You cannot help but root for her!
I would highly recommend both books!
Killman Creek comes out in a month – so I would suggest reading Stillhouse Lake now and letting it simmer under your skin until then, or do a binge read of both together.